Lex Products Launches First Outdoor Listed Portable WeldingRack with Onboard Power Distribution
Posted Nov 29, 2018
---
November 29, 2018
For Immediate Release
Lex Products Launches First Outdoor Listed Portable WeldingRack with Onboard Power Distribution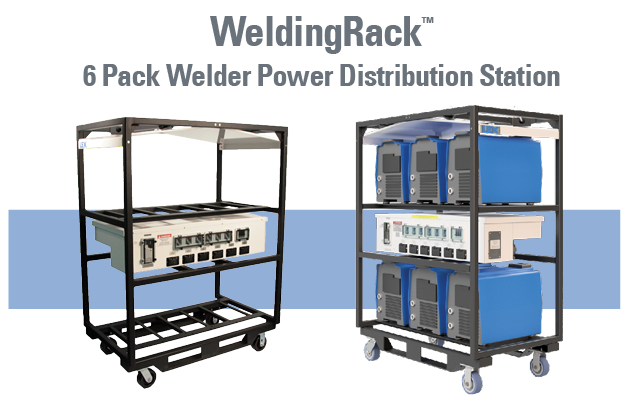 (SHELTON, CT) –
Lex Products is a leading manufacturer of portable power distribution within the industrial rental market. For applications like maintenance shutdown and shipbuilding, having a multi operator welding pack station allows for a central point of power for the welders. Lex Products has taken it a step further with an onboard transformer to provide 120VAC receptacles for tools or other convenience items.
The WeldingRACK line is cETLus Listed and meets stringent UL 1640 and CSA-C22.2 No.14 standards for Type 3R Outdoor use. Lex Products' WeldingRACK allows room for up to six industry standard welders in a power rack distribution station along with (6) 120VAC GFCI duplex receptacles. Rugged steel construction in a slim platform allows for the WeldingRACK to fit through standard doorways and in tight spaces.
"The WeldingRACK saves time, money and transportation space. The onboard power distribution and transformer to distribute tool power means eliminating the need to rent or purchase additional equipment for 120V job site tool / convenience power", commented Lex Products Industrial Product Manager, Rebecca Lore.
For more information, visit www.lexproducts.com or call 1-800-643-4460.
About Lex Products:
Lex Products is a leading manufacturer of innovative power distribution and control systems for demanding markets, including entertainment, industrial and the military. Founded in 1989, the company specializes in portable power systems including distribution boxes, cable assemblies, cable protectors and other products, designed to withstand rough use and harsh environments. Lex Products is ISO 9001:2015 certified for all production, operations and support services across its three U.S. facilities.
Headquartered in Shelton, Connecticut, the company also has offices in Sun Valley, California, Davie, Florida and the United Kingdom. For more information, visit www.lexproducts.com or call 1-800-643-4460.