Lex Launches the Outdoor PowerRACK™ Load Master® Series
Posted Feb 21, 2023
---

Shelton, CT – Lex Products introduces the Load Master® Series Outdoor PowerRACK™! The Outdoor Rack is an expansion of the Load Master® portable, rubber Adjustable Breaker Box Series.
Fed directly from a power source, the Outdoor Rack distributes 800 Amps of 3 phase power to multiple circuits, creating a main power distribution station within the jobsite.
The Load Master® Series Outdoor PowerRACK™ features outputs with adjustable current ratings to match specific application loads. In addition to providing enhanced safety, the adjustable breaker design also allows for unmatched flexibility for temporary applications. Adjustable breakers eliminate the need to rewire circuit breakers to match load requirements; while dip switch settings allow for the adjustment of output loads quickly and easily. This makes the Outdoor Rack well-suited for job sites where a range of power loads are required and change frequently.
Unlike some panels and boxes that require rental houses to invest in a wide range of circuit breakers that need to be installed and wired on a case-by-case basis to meet specific power load needs, the Load Master® Series offers a wide range of adjustable breakers within self-contained racks. Whether the need is 60 Amps, 600 Amps or settings in between, the Load Master® Series can be adjusted to suit the application without any installation or removal of circuit breakers.
In addition to adjustable breakers, the Outdoor Rack is unique in that it is the first-of-its kind. "Lex Products has revolutionized portable racks with the first cULus Listed PowerRACK™ for Outdoor Use," says Rebecca Lore, Industrial Market Manager, "There's no changing of parts necessary or extra inventory making it a more convenient alternative in an easy plug-and-play format."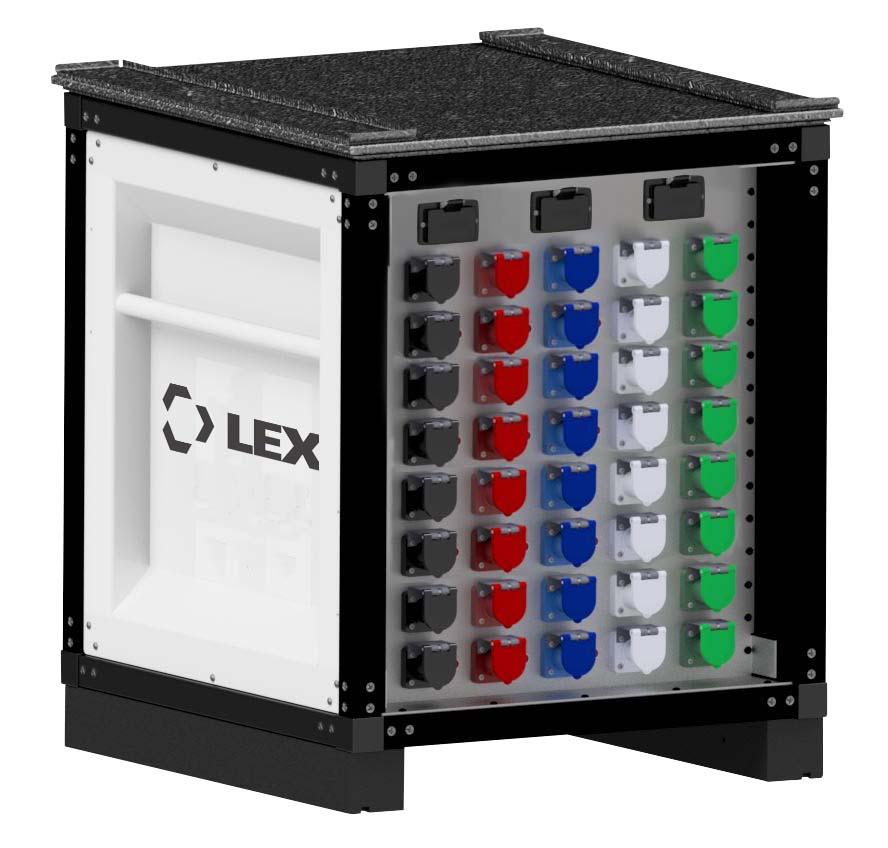 Stackable in use, storage, and during transport
Heavy-duty aluminum panels with integrated side handles designed for hand or strap lift
Roadworthy construction
Recessed front and back panels for added protection
Skid base elevates receptacles above ground while permitting secure lifting via forklift
Custom logos and branding available