Introducing the PowerGATE™ 800 Amp Power Input Panel
Posted Sep 05, 2018
---
September 05, 2018
For Immediate Release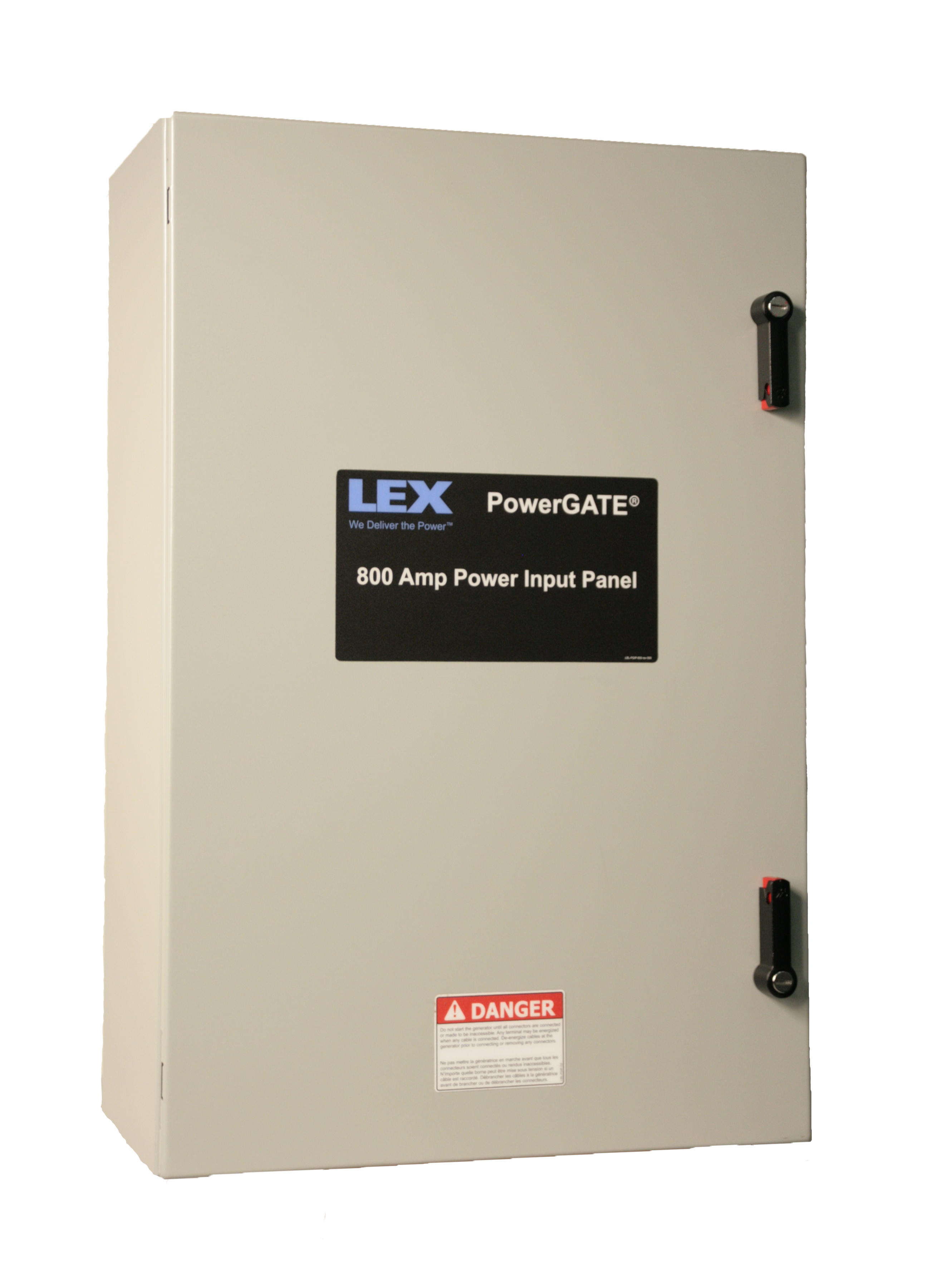 (SHELTON, CT) – Lex Products' 800 Amp PowerGATE™ Power Input Panel is fully cULus Listed and the latest in a series of generator-ready panels that provide safe, reliable, and convenient access to temporary electricity in power outage and disaster relief situations. Power Input panels are permanently installed on the outside of a building to be connected to a portable generator and building, using a transfer switch. This newest addition packs 800 amps into a low profile, cULus Listed, weatherproof panel to suit greater power needs.
It is important be equipped in the event of a natural disaster or emergency power outage, and the 800 Amp Power Input Panel provides easy and quick connection with industry standard cam-type connections. The panel is ideal for apartment complexes, grocery stores, gas stations, restaurants, medical offices and any building that requires or would benefit from a safe and reliable power backup system. The panel can be used to transfer power to heating and refrigeration, medical equipment, data backup and integrity, security systems, and communications continuity.
The panel's outdoor rating helps save space indoors, eliminates the necessity for ventilation systems, and reduces liability by eliminating the need to run cables through entryways and traffic. "In emergency situations, having options to protect yourself and your business is important; that's why we are happy to introduce one more: the 800 Amp PowerGATE™ Power Input Panel," says Rebecca Lore Industrial Product Manager for Lex Products.
System Features / Benefits
• cULus Listed Type 3R for outdoor installation
o Weatherproof
o Seamless gasket provides water & dust tight seal
• Tamperproof Design
o Inward opening cable entry cover is fully enclosed, even in use
o Control over access and protection from theft using padlock handle
• Convenient Connection
o Industry standard Cam-type connections save crucial time in emergency situations
o Lug terminals provide positive connections to building wiring
o Ample contractor wiring room for wire bend radii
For more information, visit www.lexproducts.com or call 1-800-643-4460.
About Lex Products
Lex Products, LLC is a leading manufacturer of innovative power distribution and control systems for demanding markets, including entertainment, industrial and the military. Founded in 1989, the company specializes in portable and permanent power systems including distribution boxes, cable assemblies, cable protectors and other products, designed to withstand rough use and harsh environments. Lex Products is ISO 9001:2008 certified for all production, operations and support services across its three U.S. facilities.
Headquartered in Shelton, Connecticut, the company also has offices in Sun Valley, California, Davie, Florida and the United Kingdom.