Lex Products Introduces the ReadySwitch X™ Manual Transfer Switch
Posted May 12, 2022
---
For Immediate Release
Lex Introduces the ReadySwitch X™ Manual Transfer Switch
Rotary Switch Version with Integrated Input Panel!

Shelton, CT – Lex Products introduces the ReadySwitch X™, a cULus Listed 1008 Rotary Style Manual Transfer Switch with Integrated Power Input Panel. The ReadySwitch X™ provides a safe, convenient, and economical way to connect and transfer power between permanent and temporary power during natural disaster, power grid failure and system maintenance.
When natural disasters strike, millions of dollars in profit are lost by businesses that have perishable food and supplies which spoil when a power outage occurs. Damages are often increased when lighting and I.T. systems go down, halting businesses from operating. With the addition of the ReadySwitch X™, businesses can now incorporate an affordable and safe solution to emergency power needs.
The ReadySwitch X™ unit is mounted to the side of a facility during an electrical upgrade, new construction, or as preparation in a storm sensitive area. In times of no power activity, the device allows utility power to pass through. During a power outage, the ReadySwitch X™ Manual Transfer Switch enables switching from utility power to back up power (such as to a rented generator). This eliminates the maintence cost and upkeep required for a permanent generator while the integrated input panel circumvents the need for two separate panels, providing further cost savings.
The single-handle rotary style transfer switch is clearly marked and convenient to use for quick switching during emergency and maintenance. In addition, ReadySwitch X™ panels come standard with a phase rotation monitor (up to 480V), (2) 5-20 20A weather resistant duplex receptacles, and indicator lights that are conveniently located on the front door of the panel: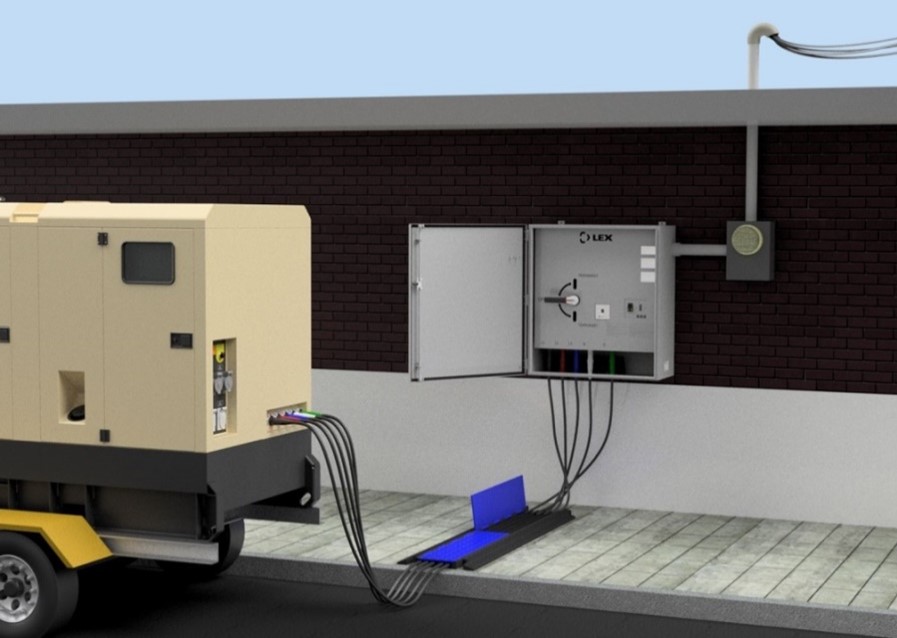 Phase Rotation Monitor: Quickly monitor the total loss of one or more phases and synchronization of phases with the phase rotation monitor.
Indicator Lights: Gain visible confirmation of active power from the outside of the panel with two red LED lights.
Accessory Outlets: The two 20A duplex receptacles are individually protected by GFCI breakers which aids in preventing nuisance tripping due to condensation. 20A receptacles allow for supplying power to block heaters and battery chargers.



Single Handle Switch Phase Rotation Monitor Indicator Lights
The ReadySwitch X™ can be customized with additional features such as a strip heater with a thermostat. Convenience receptacles can be added such as (1) L5-30 receptacle and 20A GFCI Duplex Receptacles. The ReadySwitch X™ series is also available in a stainless steel construction.
This permanent solution for temporary power and switching is fully listed to UL 1008 for outdoor use and complies with NFPA 110-2022, chapter 6 Transfer Switch Equipment and NFPA 70 National Electrical Code (NEC):
Article 408 - Switchboards and Panelboards
Article 700 - Emergency Systems
Article 702 - Optional Standby Systems
The ReadySwitch™ Manual Transfer Switch product line can be permanently installed between the Automatic Transfer Switch (ATS) and the backup power system; utility power and the facility; or as part of a sub panel within the electrical system depending on whether it's Service Entrance Rated or Non-Service Entrance Rated. The new manual transfer switch is a welcome addition to the ReadySwitch™ line which includes the original version (ReadySwitch O™) with patented interlocking switch.
The Lex Products ReadySwitch X™ Manual Transfer Switch is the most cost effective way to prepare your business or facility for a power outage. "The ReadySwitch X provides convenience and performance making it an essential piece to have in any backup power set-up requiring a manual transfer switch," says Rebecca Lore Industrial Product Manager.