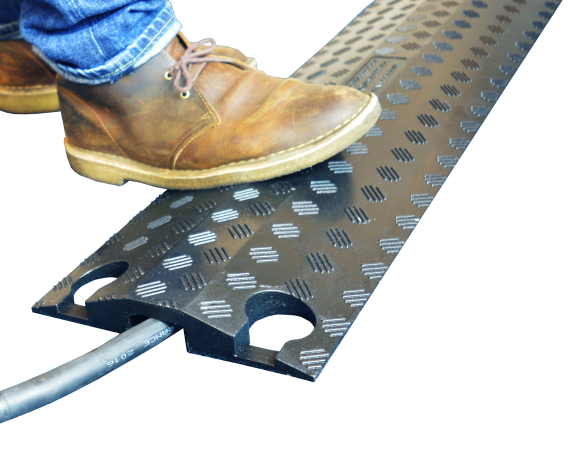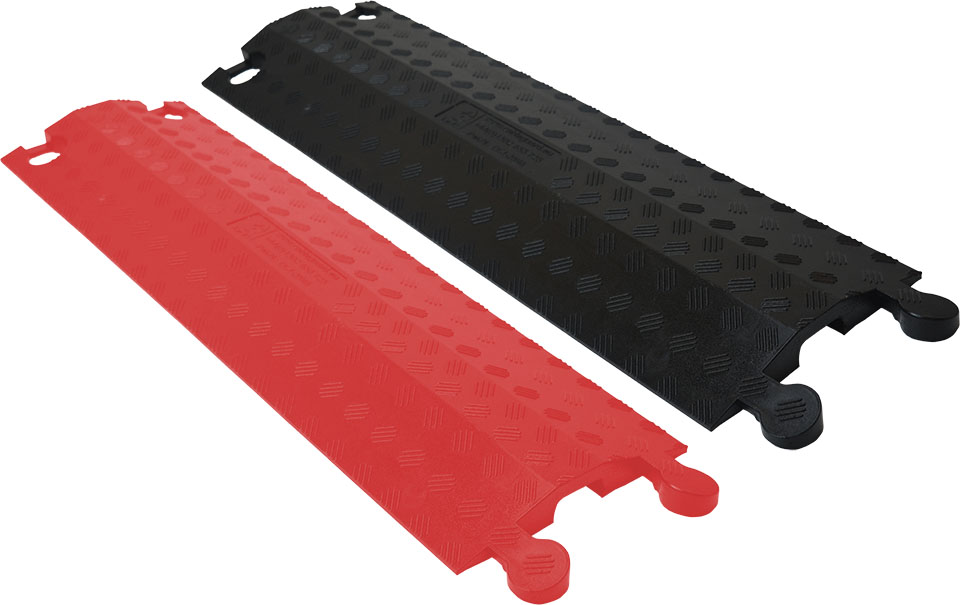 (SHELTON, CT) – The Lex Products' CableGuard™ provides safe, convenient and inexpensive
protection for smaller portable cords
, cables and hoses. Suitable for indoor or outdoor applications, it is an inexpensive and reusable alternative to taping cords to the floor, without the attendant tape residue. The 'drop over' and interconnection features allow the user to lay out cabling as desired and then place the CableGuard™ over any length.
CableGuard™ is designed to protect cables and hoses up to 0.78" (20mm) in diameter (e.g. 12/5 SOOW) under a UV stabilized halogen-free polyurethane material that is durable and non-conductive. The unique tread pattern on the top and anti-slip pads on the underside provide maximum grip.
"The addition of CableGuard™ Single Channel Cable Covers to the PowerRAMP™ line is not only a natural extension of our existing crossover cable protection products but is also a complement to our PowerFLEX™ cable assemblies and an expansion of our Panel2Plug philosophy." states Pat O'Keefe, Market Manager, Entertainment for Lex Products. "It is an additional safety device for trip hazard prevention in temporary installations."
Available in black or a highly visible red, CableGuard™ may also be ordered with custom logos molded into the tread for easy identification.
For more information, visit www.lexproducts.com or call 1-800-643-4460.
About Lex Products
: ex Products Corporation is a leading manufacturer of innovative
power distribution
and control systems for demanding markets, including entertainment, industrial and the military. Founded in 1989, the company specializes in portable power systems including distribution boxes, cable assemblies, cable protectors and other products, designed to withstand rough use and harsh environments. Lex Products is ISO 9001:2015 certified for all production, operations and support services across its three U.S. facilities.
Headquartered in Shelton, Connecticut, the company also has offices in Sun Valley, California; Davie, Florida and the United Kingdom.